The Minister's Black Veil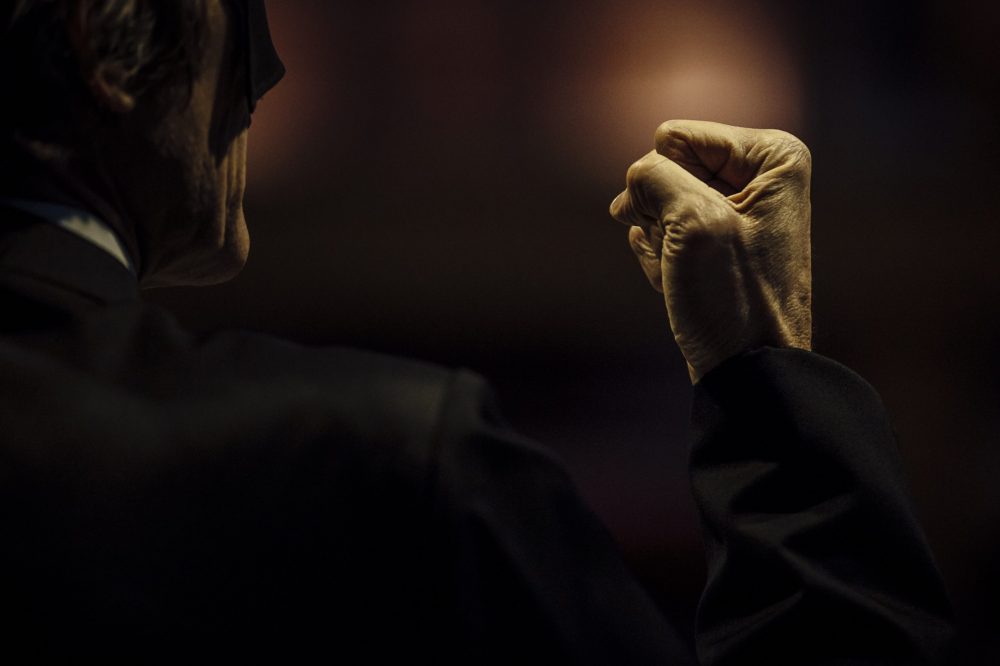 Inspired by Nathaniel Hawthorne's short story
Direction: Romeo Castellucci


With: Willem Dafoe


Text: Claudia Castellucci
Sound: Scott Gibbons
Artistic collaboration: Silvia Costa

Production supervisor: Benedetta Briglia
Organization and promotion: Gilda Biasini, Giulia Colla
Administration: Simona Barducci, Elisa Bruno, Michela Medri
Economic consultant: Massimiliano Coli

Production: deSingel art campus e Societas

Photo: Guido Mencari
Nathaniel Hawthorne – inspired by a true event – wrote something like this. One Sunday, just like any other, the minister of a Puritan community in a small New England village arrives at his church with a black veil shrouding his face. He has come, as usual, to preside over a religious service and to deliver, as always, his sermon. During the entire service however, the minister doesn't offer the least explanation of his decision to wear a veil over his face, a decision that profoundly distresses his parishioners. At that moment, and during the days that follow, everything in the village seems to fall apart. In spite of everything, the minister decides to never remove his veil, not even when he is alone at home, whether sleeping, writing or eating. Never, not even on his deathbed, facing God. He decides to obscure his face, once and for all, behind this piece of black fabric.
In Hawthorne's narration of this Sunday's events, however, one fundamental piece is missing: what were the words pronounced by the minister during his sermon? Even though this omission is remarkable, we know that the sermon was not in the least intended to explain why the minister had hidden his face. For this staging, I asked Claudia Castellucci to write the missing piece: the sermon delivered by Reverend Mr. Hooper (which is the pastor's name). In my opinion, her text is extraordinary in the way it succeeds in not-saying, while remaining perfectly suited to the human tone of this short story and its almost unbearable philosophical power. The face is where an encounter takes place; it is where all of the dynamics of humanity are played out, from love between two people to war and peace. Encountering the face of another initially creates the desire to eliminate it, to kill it, because it is different from our own. Pausing to look at another's face, instead, establishes a relation built on responsibility and sharing.
Lévinas is the philosopher who "uncovered" the face and spoke of its epiphany, meaning the instant of uncovering, the revelation of the presence of the other, already accompanied by their interior universe and all their humanity.
For my part, I have attempted to recreate the same kind of anguish in spectators as felt by the parishioners while searching for the face of their minister. They will not be able to distinguish the features of the star, the face of an actor they well know: Willem Dafoe – who, incidentally, is an extraordinary actor whose face is so expressive that, once seen, it is impossible to eradicate from one's memory.
Hiding one's face, however, is also a way of re-signifying the crucial role played by the face among ourselves, a way of recognising it for what it is: it is a place, the place for politics. Hiding it, so as to make it all the more vivid and urgent. Hiding it in silence, as though it was a scream. Reverend Hooper's gesture is an experiment in politics, like a photo negative; a politics rooted in the existence of the other. If it is true that the other's facial expression forces us to engage with them socially, it is also true that it is an appeal from one person to another, even when negated. Because the face speaks even when shrouded by a black handkerchief: the face remains, as does the appeal. The face, therefore, is the condition for any discourse, and dialogue, understood as a response and thus a form of responsibility for someone, is where an authentic relation can occur. And so, what is the Minister trying to tell us with his decision? What does he truly, and most deeply, want to tell us? Why this terrible act of defiance, which he pays for personally, with his unimaginable pain? Why did he have to do it? When the Minister covers his face, his word as well, and along with it the word of God and the divine presence in his ministry, collapses. Hawthorne's literary genius was such that he gives us no answer, because the answer is never worthy of the question.
Well, I would like to follow.
R.C. 28 August 2016