Japanese Fables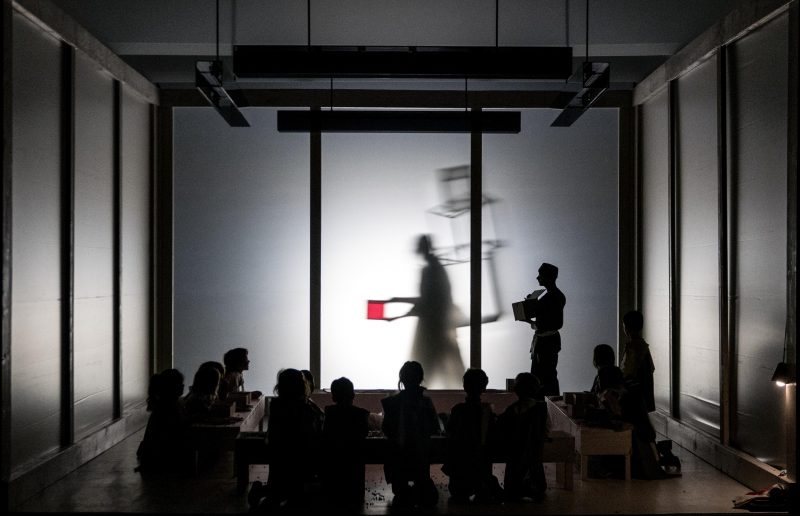 conceived by Chiara Guidi
directed by Chiara Guidi and Vito Matera

with Chiara Guidi
and with Francesco Dell'Accio, Francesca Di Serio, Vito Matera
original music by Giuseppe Ielasi,
Enrico Malatesta, Natàn Santiago Lazala
costums Francesca Di Serio
light design Giovanni Marocco
set design Vito Matera
props, technique Carmen Castellucci, Eugenio Resta

production director Benedetta Briglia
organization Elena de Pascale
production Societas

photo Nicolò Gialain
Japanese Fables don't have a happy ending – unlike our own traditional, classic ones. All that remains in the end is the Void, and the protagonist always winds up in the same place where the story began.
And so, nothing happens? Nothing at all has really taken place? Are the Void and Nothingness the same thing? Or perhaps, in the Void and in Nothingness, the Void and Nothingness have a form that defines them? And how could you see this form? You have to stand still and listen, while the walls of the room are covered with luminous images that vibrate for a while and then go away. Where do they come from, and where do they go? Or didn't I see anything? Maybe what I saw before enriches the things that stay behind later, and so, what comes later is richer than before?
We need children and their way of thinking – and we need to feel a deeper truth – to see what's not there, to open ourselves up to a world and to open up a world.
Chiara Guidi
Chiara Guidi has chosen three fables form the ancient Japanese tradition and put them in a theatre piece that asks children to perform, firsthand: she invites some of them to be with her onstage, to carry out, on the ground, a specific task; others, sitting among the audience, are encouraged with a few questions to engage in a "philosophical" dialogue between one tale and the next. Whether in the audience or onstage, therefore, all the children are inside the performance. Guided by the Narrator, they come into direct contact with what a representation is, just like they do while playing, when, along with other children their age, they experience the deepest "feeling" of reality.
While the Narrator tells the stories, a light suddenly appears from behind the translucent walls of the room. We catch a glimpse of shadows, geometric figures with various colours all on top of each other, like vague voices conjured up by the story. The images appear and just as inevitably disappear, while the characters in the stories, disobeying the rule that says "Don't open!" and breaking their vow of silence, loose everything they had received as a gift and go back to their initial condition of poverty.
For an audience for 7 years old.
Duration 60 minutes.