Buster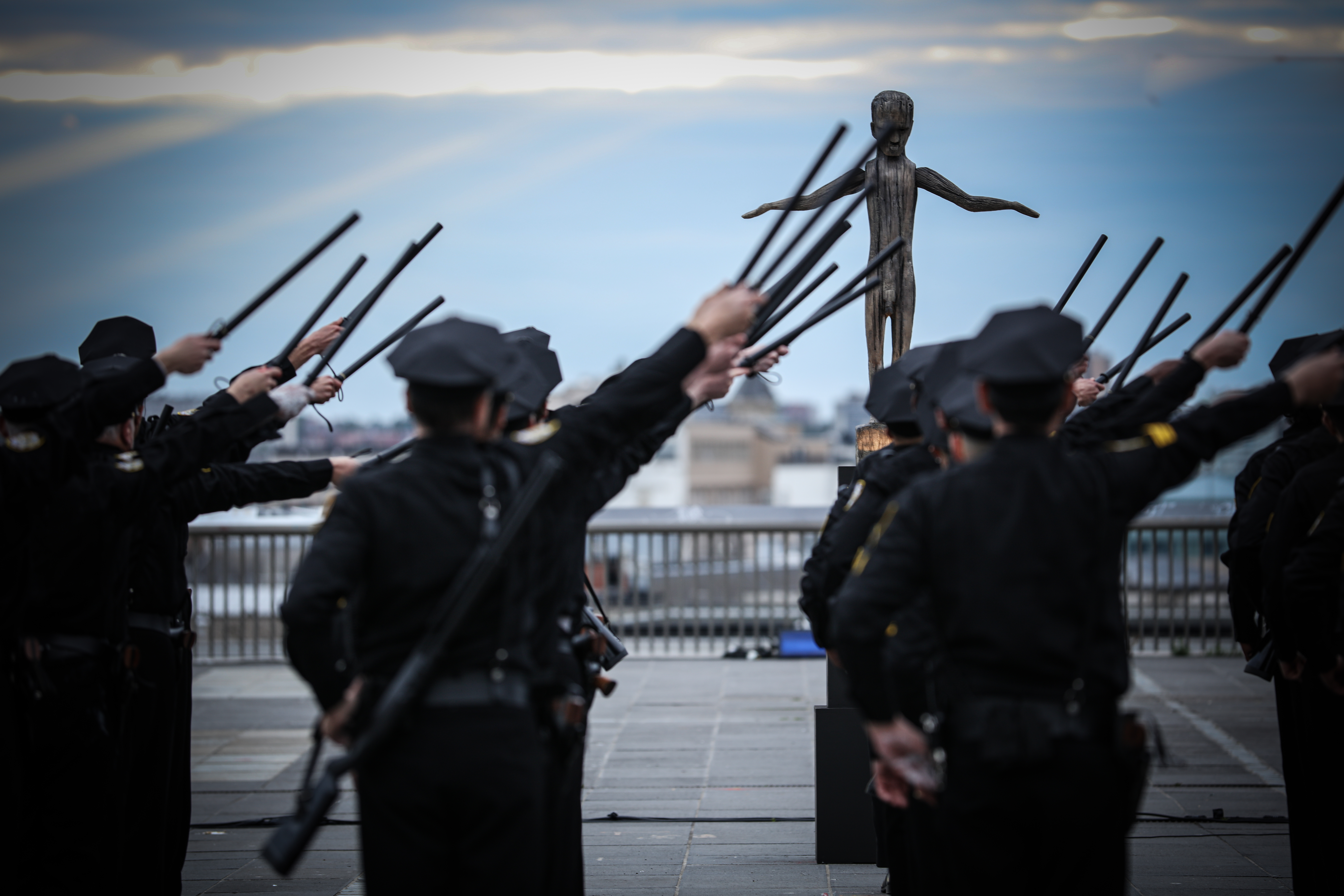 Conception and directing: Romeo Castellucci
Music: Scott Gibbons
Dramaturg : Piersandra Di Matteo


With Men from the street
With Police Officers Luca Nava, Sergio Scarlatella
With the participation of the counter-tenor: Logan Lopez Gonzales

Assistant director : Filippo Ferraresi
Technical director : Eugenio Resta
Stage technician : Andrei Benchea
Light technician : Andrea Sanson
Sound technician : Claudio Tortorici
Costume keeper : Chiara Venturini
Stage sculptures and automations : Plastikart studio
Costume realization: Grazia Bagnaresi
Production director: Benedetta Briglia
Promotion and distribution: Gilda Biasini
Production and tour: Giulia Colla
Organization: Caterina Soranzo
Technical headquarter team : Carmen Castellucci, Francesca Di Serio,
Gionni Gardini, Rocìo España
Administration: Michela Medri, Elisa Bruno, Simona Barducci
Economic consultant : Massimiliano Coli


Societas, in co-production with : Kunsten Festival des Arts Brussels; Printemps des Comédiens Montpellier 2021; LAC – LuganoArteCultura; Maillon Théâtre de Strasbourg - Scène Européenne; Temporada Alta 2021; Manège-Maubeuge Scène nationale; Le Phénix- Scène nationale
Pôle européen de création Valenciennes; MC93 Maison de la Culture de Seine-Saint-Denis; Ruhrfestspiele Recklinghausen; Holland Festival Amsterdam, Triennale Milano Teatro,
National Taichung Theater, Taiwan

Co-production of the Brussels version : La Monnaie/De Munt, Kanal Centre Pompidou

This new work by Romeo Castellucci is designed for found places, as they are and as they are shown and is built on nine principles.
01: The action requires the participation of about forty men.
02: They are not actors, but protagonists of the scene.
03: Rehearsals are replaced as a whole by some hours of organization and logistics.
04: Each of them is given a policeman's uniform and a pair of invisible headphones.
05: Each of them receives, in real time, specific individual commands.
06: Each policeman must fulfil the order received.
07: No improvisation is requested from the policemen, but the abyss of an absolute present.
08: The policeman and the actor are one and the same thing.
09: The action takes place during the evening, in an urban space.
A reflection on the law, the violence, and the comedy, on the role of actors who lend their bodies to actions that are not theirs.